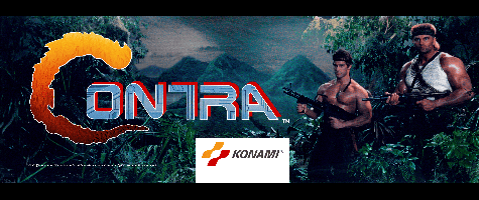 Contra
1987
Konami
Contra is one of the most beloved side-scrolling shooters. The success of the original launched home console versions and a less-popular sequel. The NES version of Contra is the first videogame I ever bought myself, so I have a real soft spot for this classic shoot-em-up.
Story
In 2633, alien intruders known as Red Falcon built a base on the Gal Mosquito archipelago and planned to destroy humankind. You command Bill or Lance, two commandos sent to destroy Red Falcon. (Don't spend too much time wondering why there is an ice level in a South Pacific archipelago). You fight your way into the enemy base and destroy the alien invaders.
Tips & Strategies
Use various gun powerups to maximize your firepower- I like the spread gun best.
The famous Konami code doesn't work in the arcade version, but you do get a few continues to help along the way.
This original version has shorter levels than the famous NES port, but the arcade graphics are much more detailed.
---
Copyright 2014-2016 Neon Retro Arcade
All Rights Reserved