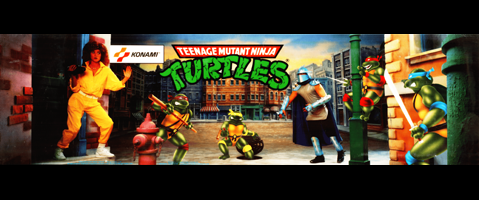 Teenage Mutant Ninja Turtles
1989
Konami
TMNT is a real classic, and Free Play is the way to go- it would take mountains of quarters to finish this game back in the day. But at Neon, you can play the whole game through (maybe for your first time). This game was truly meant to be played with friends- team up to kick some serious shell. Is there anything more 80's than battling ninjas while riding rocket-powered skateboards? Cowabunga!
Story
Shredder has kidnapped April O'Neil and Splinter, and it is up to the turtles to battle the Foot Clan and rescue their friends. Along the way you fight hordes of Foot Soldiers, each color-coded according to what weapon they carry (none, katana, boomerang, gun, dynamite, etc). Before reaching Shredder, you battle Rocksteady, Bebop, Baxter Stockman, Granitor, General Traag, and the sentient brain Krang.
Tips & Strategies
This game is known as Teenage Mutant Hero Turtles in Europe (presumably as a reaction to all the ninja problems Europe dealt with in the late 80s).
Use those objects to your advantage, and grab those pizza powerups. The NES version used Pizza Hut-branded pizzas.
The NES version added two new levels and bosses (Tora and Shogun).
---
Copyright 2014-2016 Neon Retro Arcade
All Rights Reserved