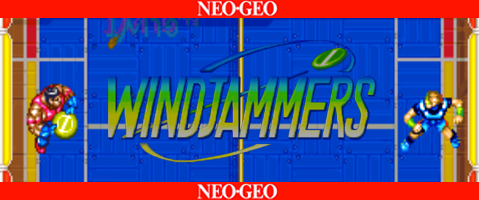 Windjammers
1994
Data East
In the late 80s, I remember searching though a beach with my metal detector, looking for coins when I stumbled across an intense frisbee game I'd never seen before. Two people hurling a frisbee at breakneck speeds towards each other, blocking and spiking the disc attempting to score on each other's goals. An incredible amount of speed and power went into this obscure sport, and it was an unforgettable experience for a stunned spectator. Only years later did I realize that this was an early live version of the sport of Flying Power Disc, which ended up captured in the arcade game Windjammers. The characters and settings changed, but playing Windjammers brings you into the intensity of Flying Power Disc just like a lucky kid stumbling across the sport on an otherwise uneventful beach.
Story
Windjammers follows the sport Flying Power Disc, which is sort of a combination of handball and air hockey, but played with a frisbee. You choose your player (beginners choose speed players, experts can choose power players) and take on rivals in a worldwide Flying Power Disc championship. Different levels bring different layouts and challenges, so stay on your toes!
Tips & Strategies
Curve the joystick just before you throw to toss a curve shot.
When the disc is in the air, align yourself early and you may launch a power throw.
In the bonus minigame, you play as a dog chasing a frisbee over a crowded beach- I love it.
---
Copyright 2014-2016 Neon Retro Arcade
All Rights Reserved