Neon is expanding to Northridge!
After a year and a half of planning & lots of 16-hour days, we are soooo close to bringing our Neon magic to Northridge!
If you've been to Neon Retro Arcade in Pasadena, you know what to expect- plenty of arcade classics from the 80s & 90s for your retro needs. Our upcoming Northridge location builds on what we've learned along the way, and your support has made this possible! We hosted our first celebration in Northridge last weekend, and the love people are already showing for this arcade makes all the hard work worth it! Thank you all, and hope to see you at our Northridge location's Grand Opening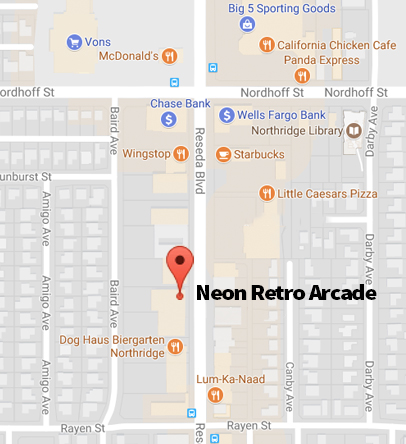 Visit Us
Neon Northridge is located at 8943 Reseda Blvd, Northridge, CA 91324, a half-block south of Nordhoff St. Easy access from the 101, 118, and 405 make your drive a breeze.
Parking
In addition to street parking on Reseda Blvd., there is plenty of free parking behind our building. If you enjoy biking around town, there is a designated bike lane right in front of our building, and a nearby bike rack for your convenience.
FAQ
Are you closing Pasadena?!
No- Pasadena is NOT closing. Neon Northridge is our second location, as in, our company is expanding! Your overwhelming support of Neon Pasadena lead to this growth, so we'll be in Pasadena for as long as you all will have us! Long live the OG!!
When is the Grand Opening? Will there be a soft opening?
Our Grand Opening will be Friday, Jan 26 at 7PM (until midnight). Arrive early: the first 50 guests in line will receive a free swag bag! More details to come. Add yourself as "going" or "interested" to receive updates on this event as well information about possible preview hours!
Are you hiring for Northridge?
We already have an an awesome team selected, trained, and ready to go. Thanks for your interest, and follow us on Facebook- we announce future employment opporunities there.
Are you taking my favorite games from Pasadena?
Don't worry- we've had 3 years to expand our game collection, so we have duplicates of our most popular games and new stuff that will entice you to make your way out to the Valley! Some games are harder to come by, so the locations will share some titles, but we're pretty good about rotating games periodically.
What games will you have in Northridge?
We haven't published our final game list yet (some machines are still being tweaked), but rest assured that our game selection matches what makes Pasadena a fun lineup. From famous classics to hidden gems, we have something for everyone. Many old favorites will be there, a few games Pasadena hasn't seen in awhile, and even a few brand "new" games that we've saved for the launch of this new location. I'm even bringing a few obscure titles that even classic gamers may not have seen in person before. Stay tuned for our complete lineup.
We are still working to get Neon 2.0 ready for you, but we hope you enjoy this little sneak peek. We can't wait to show you what we've been working on. If you want to stay up-to-date with all the latest info, be sure to follow us on Facebook & Instagram.
Still have a question? Email us!
---
Copyright © 2014-2016 Neon Retro Arcade
All Rights Reserved