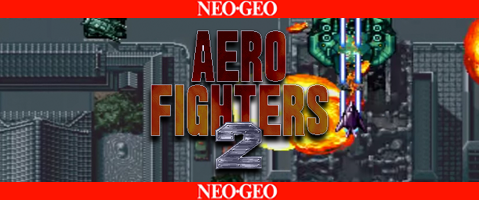 Aero Fighters 2
1994
Video System Co. Ltd.
Shoot-em-up games can be a ton of fun, especially when it marries frenetic action with fun environments, cool vehicles, and awesome powerups. Aero Wings 2 builds on its predecessor and allows you to choose from between 8 different characters, all of whom represent different countries. Fight through levels to face the boss at the end (like shoot-em-ups tend to work). Aero Fighters 2 is one of the better shmups on the Neo Geo- give it a try.
Story
Does the story really matter that much here? Hop in a jet and blast enemies. And you sure have a big roster of characters to choose from- how are they all even pilots? From a robot to a pop star to a freakin DOLPHIN?! Whaaa??? And there are some pretty kooky cutscenes when you finish the game- different endings for different character combinations. Check them out!
Tips & Strategies
Destroy some buildings or ground units to get money bonuses.
Pick up P powerups to increase your attack by one level, or get F powerups to jump straight to the maximum level. But be careful- max level only lasts a certain number of shots.
This game is also known as Sonic Wings 2.
---
Copyright 2014-2016 Neon Retro Arcade
All Rights Reserved