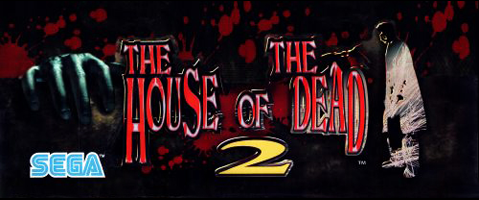 House of the Dead 2
1998
Sega
If you're gonna play a shooting game, you probably want to face off against aliens or zombies. House of the Dead 2 is part of the most iconic zombie shooter series in arcade history, with several fun titlesto please gamers. I'm not sure why these characters keep running head on into zombie masses, but they've got a knack. And this game makes for a fun date night activity- nothing brings people closer than taking on legions of zombies together.
Story
You travel to Venice to track down the missing Agent G. You finally find G alive but wounded, and he gives you a guide to the various bosses. As you start to learn about these creatures, an undead horde invades and you are forced to fight and flee, evacuating and rescuing people along the way. You face bosses like Zeal and his armored puppet Kuarl, a fish-like creature, and many others.
Tips & Strategies
You don't have to pull the trigger off-screen to reload- just aim off-screen and you will reload automatically.
There are multiple endings based on the number of players, amount of continues used, etc.
Always look for those boss' weak points.
---
Copyright 2014-2016 Neon Retro Arcade
All Rights Reserved