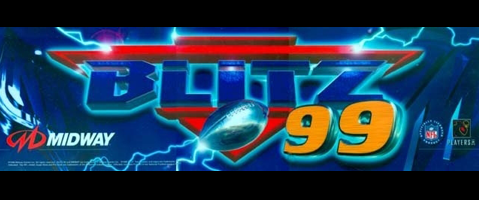 NFL Blitz 99
1998 (I know, right?)
Midway
This game is all kinds of goofy fun. If you're looking for a realistic football game, keep looking. This is like football meets WWE. Every offensive play is a long bomb, and all you end up doing on defense is rush the QB all day. This game doesn't have the strategy of Madden, but it is a bit more fun to play. Now if they only made a NCAA Football mod. Hmm.
Story
This is a football game. The story is that you are trying to win a football game. The main differences here are that there are no penalties, and you need 30 yards for a first down. Thankfully there are plenty of plays available to help get you down the field. Be sure to add enough credits to get you through- each credit lets you play one quarter.
Tips & Strategies
There are tons of hidden characters and powerups. You can even play as Raiden from Mortal Kombat.
You can create your own plays- save a profile to get started. You can also save your progress so that you can pick up where you left off.
When in doubt, Da Bomb.
---
Copyright 2014-2016 Neon Retro Arcade
All Rights Reserved