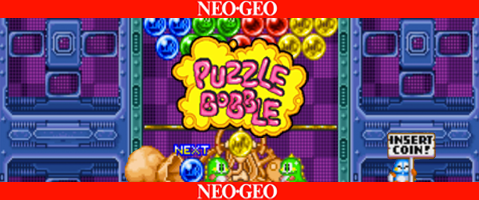 Puzzle Bobble
1994
Taito
While this game may not be quite as addictive as Tetris, it is pretty close. This is one game that is enjoyable even if you've never played the game before. It starts out charming you with its happy melodies and easy gameplay, and before you know it you get sucked into the challenge. Give it a shot- Puzzle Bobble may become your second-favorite puzzle game.
Story
Puzzle Bobble (AKA Bust-A-Move) is an addictive puzzle game that plays like a mix of the original Bubble Bobble and Tetris. You help Bub and Bob aim as they shoot bubbles to the top of the screen in order to match colors. You have to complete puzzles as the screen gets progressivly smaller, making each shot count more and more as time goes on. The first few levels are easy, but this game's difficulty ramps up quickly.
Tips & Strategies
For the most points, try to knock clusters of bubbles down instead of merely popping them.
On rounds 9 and 13, it is possible to earn bonuses of a million points.
Enemies from Bubble Bobble can be seen trapped in certain bubbles.
---
Copyright 2014-2016 Neon Retro Arcade
All Rights Reserved