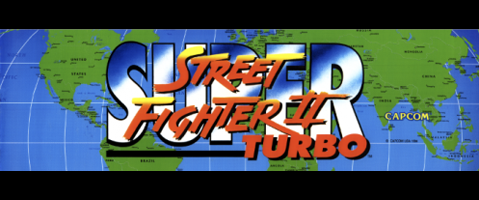 Super Street Fighter 2: Turbo
1994
Capcom
Super Turbo is often considered the best of the early Street Fighter games. With an expanded roster (original 8 plus bosses plus 4 new characters), Super Turbo builds on a successful formula with enhanced graphics and more of what classic fighting gamers love. You can choose game speed before a match, and you also now have Super Turbo moves to master. Pair this awesome game with a great "Big Blue" cabinet, and you have one of the most quintessential 90s games ever.
Story
The story isn't so critical to the game, but you have new characters' histories to explore. In addition to the original 8 playable characters, you can also play as the bosses and 4 new characters- T Hawk, Fei Long, Dee Jay, and fan favorite Cammy. Super Turbo is all the fun of the Street Fighter series with an extra layer of polish.
Tips & Strategies
You can play as the hidden character Akuma. It's complicated to explain how, but if you do it correctly on the character select stage, your character's picture will be replaced by a dark shadow.
Unleash your Super Combo near the end of a match for an awesome ending!
---
Copyright 2014-2016 Neon Retro Arcade
All Rights Reserved