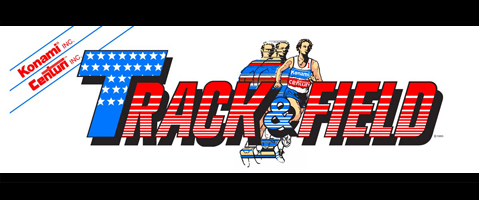 Track & Field
1983
Konami/Centuri
This is a goofy fun sports game that can actually be a bit strenuous. Smashing buttons to boost your speed can really be a bit tiring if you overdo it. This game is also known for players using a pencil (or comb, etc) to alternate buttons quickly. Made to capitalize on the upcoming 1984 summer Olympic games in Los Angeles, this game became a template for many Olympics-themed videogames throughout history.
Story
Track & Field follows the general rules of Olympic sports, but you don't have to be an expert to have fun. Just alternate buttons and you are halfway there. Events include 100m Dash, Long Jump, Javelin, 110m Hurdles, Hammer Throw, and High Jump. Don't worry if your first try doesn't make the cut- you generally have a few tries to perfect your technique.
Tips & Strategies
In the Long Jump, an angle of 45* is best. In Javelin, try 42*.
Throw the javelin off the top of the screen and you'll knock down a bird and get bonus points.
If you keep the 'Run' button held down after throwing the javelin, you can get another ~20 meters.
---
Copyright 2014-2016 Neon Retro Arcade
All Rights Reserved