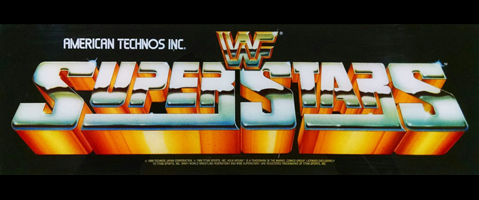 WWF Superstars
1989
Technos
Wrestling themes are a staple of classic videogames, especially since their heydays overlapped so much. Nearly every kid in the 80s had a favorite wrestler (Hulk Hogan obviously being a popular pick), so it was only a matter of time before proper WWF wrestling games took over. While Superstars has simplified controls, it is full of fun wrestling action- grappling, throwing opponents into the ropes, dropping out of the ring to grab a weapon, and tag team mayhem. Superstars is great because two players can either play co-op on the same tag team, or competitive mode where they square off against each other. So do you want to play with or against your friend? Superstars gives you the choice. So lace up your boots, step into the ring, and drop some elbows- it's gonna be a great match!
Story
Andre the Giant and Million Dollar Man Ted DiBiase formed a tag team called "The Mega Bucks" to destroy Hulk Hogan. They feuded with the tag team of Hulk Hogan & Randy Savage for months leading up to the first SummerSlam in 1988 (with Jesse Ventura appointed as guest referee). Do you have what it takes to defeat the Mega Bucks? Play WWF Superstars and find out!
Tips & Strategies
When you pin an opponent, watch out- their partner will try to break up the count.
Don't bother trying to grapple Andre the Giant- he's too huge to grab.
The flyer refers to Hacksaw Jim Duggan as "King Duggan" ?!
---
Copyright 2014-2016 Neon Retro Arcade
All Rights Reserved